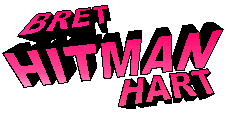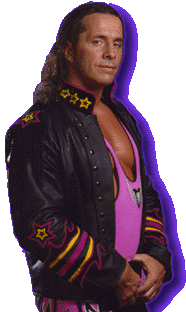 ---
Basic Information on Bret Hart
GENERAL INFO
Wrestler:
Bret Hart
Real Name:
Bret Hart
Weight:
234lbs
Height:
6'0"
Finishing Move:
The Sharpshooter
Description of Finisher:
Scorpion Death Lock



OTHER BRET HART INFO



FAVORITE QUOTES:


"I am The Excellence of Excecution"

"I am The Best there Is, The Best there Was, and The Best there Ever Will Be!"

TITLES HELD:

WWF WORLD TITLE(5 Times):

First Time: Beat Ric Flair in Late 1992

Second Time: Beat Yokozuna in MSG New York at WrestleMania 10

Third Time: Beat Diesel at The 1995 Survivor Series

Fourth Time: Beat Steve Austin, Vader, and The Undertaker at The Febuary IYH in a Final Four Way Match

Fifth Time: Beat The Undertaker at SummerSlam 1997


WWF INTERCONTINENTAL TITLE(2 Times):

First Time: Beat Mr. Perfect at The 1991 SummerSlam

Second Time: Beat Rowdy Roddy Piper at WrestleMania 8 in 1992


WWF TAG TEAM TITLE(2 Times):

First Time: He and Partner Jim Neidhart beat The British Bulldogs on 1/26/87

Second Time: He and Partner Jim Neidhart beat Demolition on 8/27/90


ROYAL RUMBLE VICTORIES(1 Time):

1994


KING OF THE RING VICTORIES(1 Time):

1993


MOST MEMORABLE MATCHES:


The Hartfoundation vs. The British Bulldogs (First Tag Team Title Victory)
The Hartfoundation vs. Demolition (Second Tag Team Title Victory)
Bret Hart vs. Mr. Perfect (First IC Title Victory)
Bret Hart vs. Rowdy Rody Piper (Second IC Title Victory)
Bret Hart vs. Ric Flair (First World Title Victory)
Bret Hart vs. Yokozuna (Second World Title Victory)
Bret Hart vs. Diesel(Third World Title Victory)
Bret Hart vs. Vader/Steve Austin/The Undertaker (Fourth World Title Victory)
Bret Hart vs. The Undertaker (Fifth World Title Title Victory)

SLAMMY AWARDS WON:


1996 Best Finisher

1996 Best Music Video

1996 Most Likely to Enter the WWF Hall of Fame
1996 Best Match (Shawn Michaels vs. Bret Hart: Iron Man Match at WrestleMania 12)
1997 Best Finishing Move

OTHER FACTS:


Held The WWF Triple Crown 2 Times

Second Man to Ever hold the World Title 5 Times!

Appeared in Two Episodes of Lonesome Dove

Appeared on an Episode of the Simpsons

---
Bret "Hitman" Hart
Bret Hart has to be one of the Best wrestler, if the Best, to have ever steped foot inside a wrestling ring. He has done it all, and beat the best in the sport. Such names are: Shawn Michaels, The Undertaker, Mr. Perfect, Ric Flair, Diesel, Steve Austin, Vader, Rowdy Rody Piper, Razor Ramon, and his Brother, Owen Hart. They are just a few of the names Bret Hart took on and beat.
Bret Hart began his career in the WWF in the early 1980's. He and Partner, Jim Neidhart, took the Tag Team ranks by storm! They defeated such teams as: The British Bulldogs, Power and Glory, The Nasty Boys, and Demolition, Just to name a few. They were also 2 time former Tag Team Champions, and really did show the wrestling world True Champions!
Bret Hart's career is still reaching new heights. He has held the WWF Title 5 Times. He is tied with former superstar, Hulk Hogan, who also held the title 5 times. One more time, and Bret Hart will be that record.
Many People still compare Bret Hart with Shawn Michaels. They saw Shawn Michaels is the better wrestler (Which I Totally DISAGREE with!) Many people may not have known this, but Bret Hart DID indeed defeat HBK at The 1992 Survivor Series. so therefore, they both beat each other once. No one can really decide who is better, unless they wrestler again, BUT in a FAIR match!
---
Bret Hart Goodies!
Sweet Chin Music Central's Very Own Bret Hart Photo Gallery: Many Bret Hart photos for your Viewing Pleasure.

Bret Hart Chat Transcript: Read one of Bret Hart's Chat Transcripts from AOL!


---

The number of Bret Hart fans visited this page
times since October 13,1997